Beautifully engraved tools.
We can create an order and help with anything else. Feel free to get in touch.
Each order is individually prepared by hand and laser engraved to meet our strict quality standards.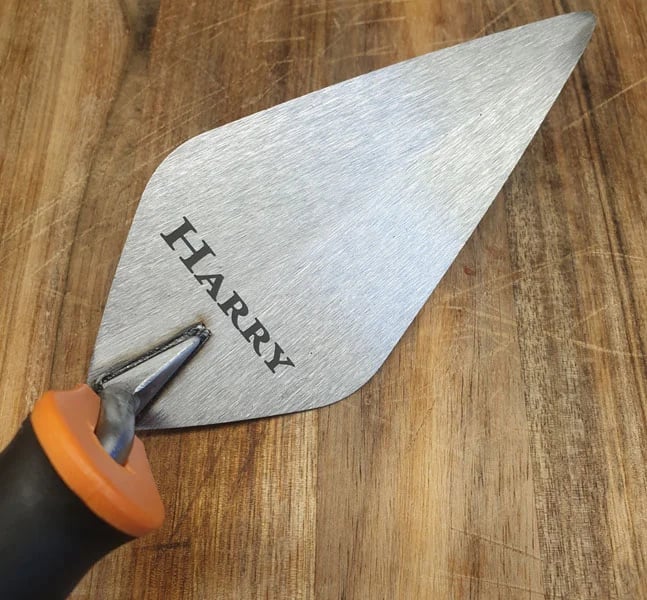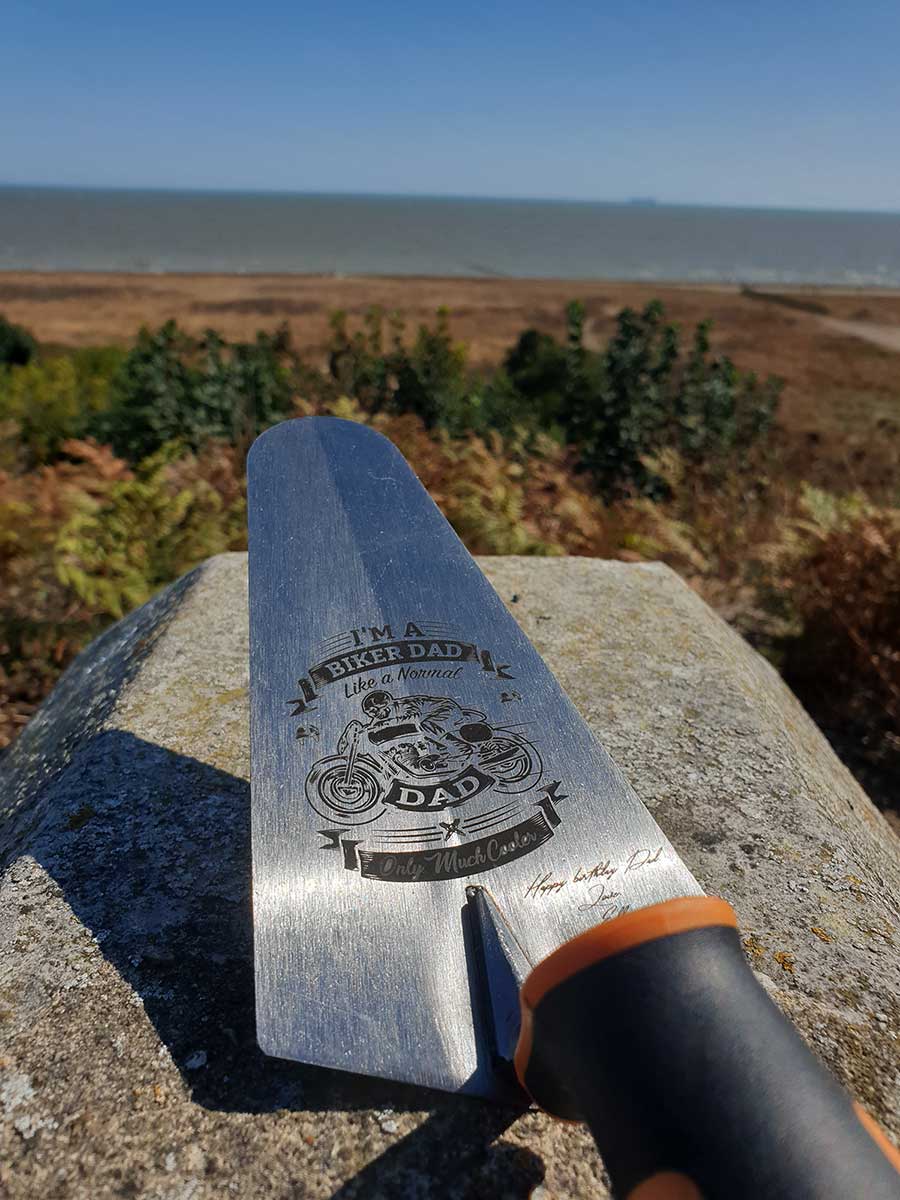 Laser annealed to perfection.
Unlike etching or rotary engraving, annealing minimises the amount of material removed from the tool.

This means that tools don't lose their structual integrity and have a higher degree of corrosion resistance compared to deeper engraving.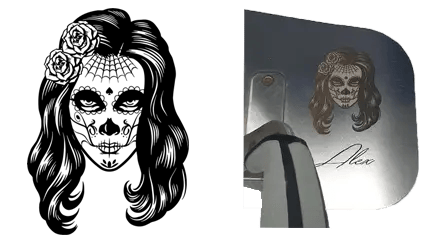 Ultra high quality artwork
Advanced engraving that produces amazing vector artwork without any additional colour or printing.

Choose from our range of vector based designs, or upload your own.

We're at the forefront of laser based design, and our investment in fiber MOPA laser equipment allows us to modify the surfaces of various types of material, producing effects such as colour and texturisation.
What our clients are saying
My first contact with Hawtons was purchasing a sign for my employer after seeing an ad. I loved the style and ended up treating myself to a new trowel which is nothing short of awesome.
Buying tools for my Grandads birthday is a yearly tradition. When he saw his initals and army rank on his wrench he was over the moon. 10/10 for service and quality
I orginally started looking for a way to identify my tools as im sure any tradesman knows things often go missing on site! Pretty much anything over £20 I'll buy through hawtons and have it engraved. Saves having to buy new ones every 6 months due to people "borrowing them"
Brillant gift for my DIY mad mum! Thanks!!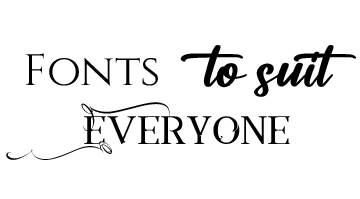 Are you one for calligraphy? Or perhaps a clear, professional font which reflects your values.
---
We've curated a range of amazing fonts for you to choose from, but if you have a particular font you wish to use, feel free to contact us and we'll do our best to accommodate this.
Choose from our range of handwritten, serif and display fonts.
Colour finishes created by molecular changes to the metal
Choose from a range of different finishes, which are achieved by specific parameters, and do not contain any ink, paint or other material.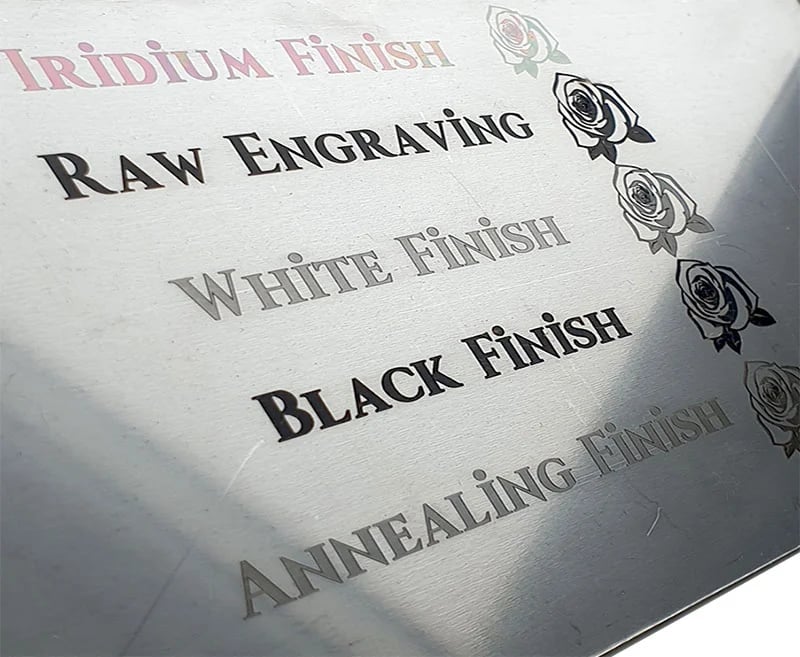 Choose from three levels of engraving depth to achieve the perfect look for your tool.
We offer a range of protective coatings and finishes to suit all environments. 
Choose from:
Polyvine Crystal Clear Laquer, a water-based, non-toxic protective coating to prevent damage and corrosion in


Rustins Polyurethane Coating, a heavy-duty, hard-wearing clear coat.


ACF-50, an industry-proven coating to help prevent rust and oxidation. For products that will be regularly exposed to the elements, especially tools, we recommend choosing this option.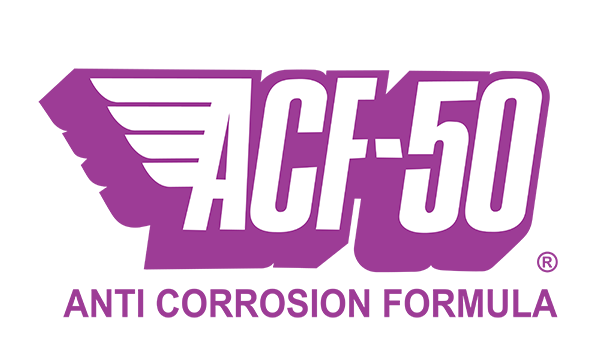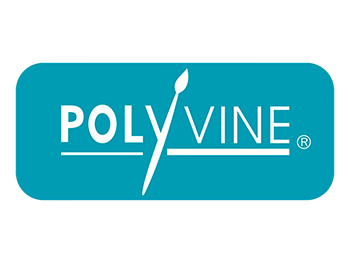 How long does delivery take?
Processing and finishing your order takes between 1 and 3 days. We will always prioritise quality over speed when it comes to our services and during busier periods this time may be longer. We'll always keep you updated on the progress of your order via text and email.
---
Delivery times (from dispatch) :
Royal Mail First Class - 1-2 days
Special Delivery - 1 day
Second Class - 2-3 days
---
Can you use the tools for work?
You can indeed!
---
We highly recommend choosing a protective coating option in this case, such as polyurethane or lacquer. The key difference between the two is a lacquer is slightly clearer and lighter, while polyurethane is stronger, denser, and slightly less transparent.
Lacquer remains the best option for maintaining the highest level of clarity, Polyurethane will slightly raise the surface and be more visible.
Our engravings are very resilient to the environment they are exposed to while working. Proper care should always be employed, as with any tool. Clean well after use, using non-abrasive cleaning products and oil using light mineral oil or anti-corrosion compound such as ACF-50/WD-40 afterward.
Is there any ink or printing used?
We do not use ink, paint, or printing in our engravings. As standard, all engravings are cleaned and oiled for protection with or without protective coating.
How long will an engraving last?
Our engravings are designed to last the lifetime of the tool. Heavy abrasion and use over time may gradually reduce the overall quality of the engraving, in line with the rest of the surface of the tool.
I want to engrave a tool which isn't listed
Please pop us a message via Whatsapp, Email, or call us to discuss this. We can engrave the vast majority of tools and can create a custom order for you.
Do you engrave power tools?
We're currently developing our process for engraving power tools and this service may be offered in the future.
Our work is guaranteed as follows:
Nonworking/Display/Gift tools
---
Guaranteed not to diminish for at least one year. Engravings can only be diminished or removed vis harsh sanding or mechanical removal. 
Working tools
---
For tools that have engravings coated in Polyurethane or Lacquer, we guarantee the engraving not will not fade in normal use for 6 months.
We do not offer a set guarantee for uncoated working tools as there are too many factors that we cannot account for such as exposure to materials, chemicals, and damage.
As with any carbon steel tool, it's critical to properly care for them. Regular cleaning and oiling will keep them in optimal condition.
We can only guarantee the quality of the engraving as the tools are produced by our manufacturing partners. If any issue arises regarding the actual tool itself, we'll be more than happy to get in touch with them on your behalf to resolve any issues.
If you have a problem with your product, inside or outside warranty, we'll always be here to help.
---
For further information, please read our Returns  guide 
At Hawtons, one of our core values is making sure you are completely satisfied and happy with your order. It's our promise to always provide the best possible service and products.
If you're unhappy with a product you have received, please contact us 
Please familiarise yourself with our returns policy, which is as follows:
Problem with your order
---
If you have received the wrong item, incorrect engraving or of unsatisfactory quality, we will replace the item upon receipt of satisfactory photo evidence or receipt and inspection of your product.
Returns inside the UK are free. For international orders, you may not be expected to return the item as long as photo proof of any issues is provided.
If you ordered by mistake or no longer want the item
---
We cannot accept returns in this case due to the items being customised .
---